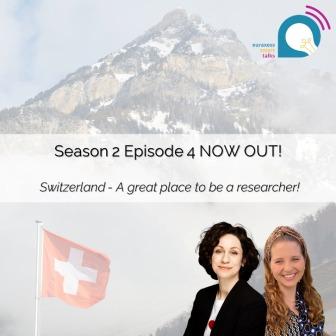 Listen now to Episode 4 of EURAXESS Smart Talks and learn about research careers in Switzerland!
Join hosts Darja Aksjonova and Leah Nerenberg as they interview incredible guests, including:
Maddalena Tognola, an expert from the Grant Office at the University of Bern
Seraina Munton, Research & Project Manager at EU GrantsAccess
Sarah Daepp, the National Coordinator of EURAXESS Switzerland
Professor Mira Burri, Professor of International Economic and Internet Law at the Faculty of Law of the University of Lucern
Gain unique insights, important lessons, and personal experiences on research careers in Switzerland.
Listen to the episode here or tune in on your favorite platform (Spotify, Google Podcasts, etc.). 
Don't miss this opportunity to explore exciting topics for the global research community!
The EURAXESS SmartTalks Podcast Team - Israel (IP&D), Greece (CERTH), Serbia (MEF), Latvia (LZP) & Ireland (SciPol)
For more information follow us on our social media pages:
Facebook - https://www.facebook.com/profile.php?id=100093344322682
Instagram - https://www.instagram.com/euraxess_smart_talks/
Twitter - https://twitter.com/EURAXESmarTalks
LinkedIn - https://www.linkedin.com/company/euraxess-smart-talks-podcast/